Yesterday was:
Awesomesauce
So we went to Cousin's Subs for lunch and ate at the harbor. THE WEATHER WAS ACTUALLY NICE. And fuck, I always forget my camera. QQ Had a ham and provolone on Parmesan asiago cheese bread <3 MMMMMMMMMM. School went decently too. O:
ANNNNNND LAST BUT NOT LEAST.
Zander is Expert!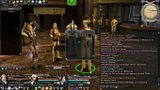 Cirucci and Lucana need to go die for their comments, though. :C
But yeeeees. Original team is expert <3>.> So I guess the White Bishop will have to come later. Of course, all this talk is crazy coming from me, considering I'll never get a Dragon Heart. Let alone three. So I'm still wondering if I should look at an Einaptor or what... bleeeeargh. q_q
Today so far:
Failsauce
Overslept, had a lingering headache through out the day, and my digestive tract apparently doesn't like spaghetti, now? I dunno. e_e LE SIGH.
Tomorrow should be:
Even More

Awesomesauce
DO YOU KNOW WHY?

TRANS-SIBERIAN ORCHESTRA CONCERT TOMORROW, THAT'S WHY.
Yes that needed to be in bold caps.
Anywho I guess I'll leave you with some kickass shots of Zander and Kharis owning-it-up in Depri.